About 574,039 square feet (53,330 square meter) complex, called "Mars Base 1" and also known as "Mars Camp", saw students try on space suits and wander around the surrounding desert where Martian Caves have been constructed.
A Mars base simulator sits in the middle of nowhere in China's Gobi desert, but instead of housing astronauts training to live on the Red Planet, the facility is full of teenagers. The facility's unveiling comes as China wants to become a space power, with ambitions of sending humans to the moon someday. White-colored base has a silver dome and nine modules, including living quarters, a control room, a greenhouse and an airlock.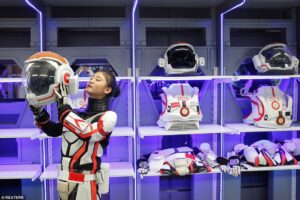 Beijing is pouring billions into its military-run space programme, with hopes of having a crewed space station up by 2022. The £ 17 million facility can house up to 60 people and replicate's Mars surface. Jiao Weixin, a space science professor at Peking University, said it is 'extremely difficult to simulate Mars due to its special natural features and hostile environment-low air pressure, strong radiation and frequent sandstorms, as well as vast differences in geography'. Surrounded by Barren Hills in Northwestern Gansu province, "Mars Base 1" opened on Wednesday with the aim of exposing teens – and soon tourists – to what life could be like on the planet. The closest town is Jinchang, some 40 kilometers (25 miles) away. On Wednesday, over 100 students from a nearby high school walked on the arid Gobi plains, dressed in suits like that of astronauts.
C-Space had help from the Astronauts Centre of China and the China Intercontinental Communication Centre, a state television production organization, in its quest to create a realistic environment. Guides were on hand to take the teenagers inside and help them put on Martian Suits and explore Caves in the Martian-like landscape. The company behind the project, C-Space, plans to open the base – currently an educational facility – to tourists in the next year. As budding astronauts explore "Mars on Earth", China is planning to send a probe to the real Red Planet next year.
"The Mars C-Space Project in the Gobi desert stretches 40 kilometres wide, and is surrounded by barren hills in northwest Ghansu. Jiao Weixin, a professor at the School of Earth and Space Sciences at Peking University, said the building and surrounding desert were hardly representative of the truly hostile conditions on Mars.
China sees its multi-billion-dollar space exploration
Fresh from accomplishing their audacious Chang'e 4 lunar mission, China plans to go even further. China has announced its next intention is to conquer Mars, starting with a Mars rover to be launched next year. Wu Weiren, chief designer of China's lunar exploration program, told a congregation of people at the opening of the Chinese People's Political Consultative Conference (CPPCC), that the space agency is now focusing on Mars. Qaidam Basin in western China is an arid environment which vaguely replicates conditions on Mars. In September 1992, the fiction may get closer to fact in a few years as a Chinese space station is scheduled to be completed in 2020.
Pictured is one of the nine cabins that make up China has unveiled its £ 46 million ($ 61 million) base designed to simulate what life would be like for astronauts on Mars. The site features an 'extravehicular site' for visitors to experience a trip on the 'Martian Surface' in mock spacesuits (pictured) is a futuristic section of China's arid Gobi desert. The C-Space Project Opens Mars Base as a Space Education Facility by Staff Writers. Situated 40 km from the small town Jinchang, in the Gansu Province, the Mars Base not only simulates the outside living conditions Mars explorers must deal with but also what's inside their living environment.
Interaction between the solar wind (a stream of energized particles from the sun) with the lunar surface could theoretically produce water. Earth, our big blue-green marble of a planet, has a few places like that too, which makes it the perfect places to study how humans might eventually colonize the red planet.
China is running its space lab alone and is not part of the international project that currently maintains the International Space Station (ISS).
Image Credits: HOW HWEE YOUNG/EPA-EFE/REX/Shutterstock