Located mostly in the tropics of Africa, Australia and Asia, the tiny creatures spend most of their lives burrowed into tree trunks or underground, to the endless frustration of scientists who would like to study them. But one species, Mystrium camillae, has a pair of ingeniously-designed mandibles that can snap at 200 miles per hour, according to a study published Wednesday in Royal Society Open Science. That's 5,000 times faster than you can blink your eye and 1,000 times faster than you can snap your fingers.
"Our main findings are that snap-jaws are the fastest of the spring-loaded ant mouthparts, and the fastest currently known animal movement", Fredrick J. Larabee, a postdoctoral researcher and co-leader of the study, also said in the release. "There are times where we know it's going to happen and there are times where we get hit unexpectedly by it. We also used X-ray imaging technology to be able to see their anatomy in three dimensions".
Dr. Larabee and his team also plan to further study how the Dracula ant uses its mandibles in the wild. But trap-jaw ants' powerful jaws snap closed from an open position, while Dracula ants power up their mandibles by pressing the tips together, spring-loading them with internal stresses that release when one mandible slides across the other, similar to a human finger snap, the researchers said.
Scientists recently discovered a new species of exploding ants, which kill themselves to save their colony as a defensive behavior. Worker ants can choose to rupture their abdominal wall to ward off or kill enemies. "These ants are fascinating as their mandibles are very unusual", Suarez said in a statement. "Even among ants that power-amplify their jaws, the Dracula ants are unique", said Adrian Smith, of the North Carolina Museum of Natural Sciences, who was a co-author of the study, according to the Guardian. "Instead of using three different parts for the spring, latch and lever arm, all three are combined in the mandible".
Using a high-speed camera, scientists at the Smithsonian have now caught this remarkable movement in action for the first time. "We had to use incredibly fast cameras to see the whole movement. The ants use this motion to smack other arthropods, likely stunning them, smashing them against a tunnel wall or pushing them away" , said study author Professor Andrew Suarez. The poor prey is then transported back to the nest, where it is fed to the ants' larvae.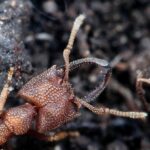 This practice has been described as a form of' non-destructive cannibalism, since the larvae are not killed by it. According to a new study, the Dracula ant, Mystrium camillae, can snap its mandibles at speeds of up to 90 meters per second ( more than 200 mph ), making it the fastest animal movement on record. Pressing the tips of its mandibles together, pressure between the ant's jaws begins to build, until at last it reaches a breaking point, eventually releasing one of the mandibles so it slides across the other.
The genus Mystrium has been called the "most mysterious group within the bizarre Dracula ants", and scientists are still not sure why this cryptic ant has evolved such special mandibles. But if Pandora's ecology is anything like Earth's, Cameron has got it wrong. Already Professor White's team has used the toad's genetics to find three new viruses that, with further work, may become biocontrols to stem the toad's march across the country.
"Scientists have described many different spring-loading mechanisms in ants, but no one knew the relative speed of each of these mechanisms", Larabee said. The bugs feed on the blood of their own larvae, making small incisions and carefully drinking just enough to avoid killing their victim. Fredrick Larabee, a postdoctoral researcher at the Smithsonian National Museum of Natural History, is the corresponding author of the study. Some species of trap-jaw ants use their spring-loaded mandibles to hurl themselves out of harm's way when an ant-trapping predator stalks, researchers report in the journal PLOS ONE.
US scientists used high speed video to record the jaws going from zero to about 320 km in 0.000015 seconds, making it the fastest known animal movement. It's really unusual for an ant species to display this much variation in chemical signature. Such grotesques, I thought, were more than eyesores. It has long wings, short tail, and protruding feather shafts. Its name comes from its dorsal fin which looks like a sail of a ship.
Image Credits: Adrian Smith